Important ordering information:
Credit card billing address must be the same as shipping address, or order will be cancelled.
Paypal payment must be verified and shipping address must be confirmed, or order will be cancelled.
Wii Fit orders will only be shipped within US and Canada. Orders to PO Box or APO/FPO addresses will be cancelled.
Orders will be shipped on a first-come, first-serve basis.
This product is not eligible for an exchange or a refund.
Wii Fit
The hit combination of Wii Sports and the Wii Remote brought golf swings and tennis serves into people's homes. Now Nintendo turns the living room into a fitness center for the whole family with Wii Fit and the Wii Balance Board. Family members will have fun getting a "core" workout, and talking about and comparing their results and progress on a new channel on the Wii Menu.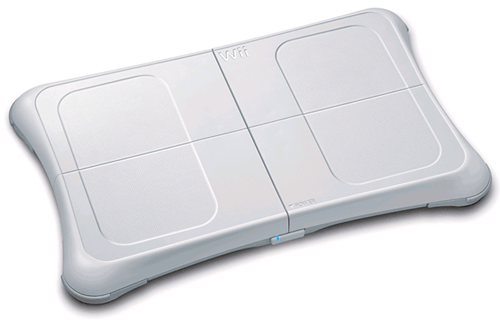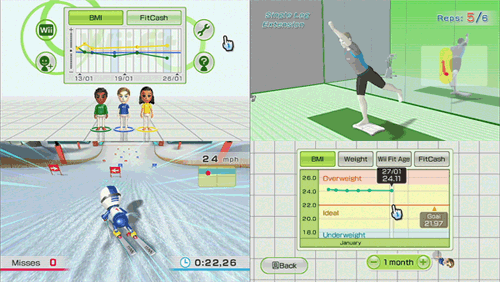 Before you jump into doing exercises and activities, you'll start by creating your own profile. Choose a Mii, enter your height and age information, and do a few quick tests:
BMI Check: BMI, or Body Mass Index, is a measure of body fat based on height and weight that is the standard used by agencies such as the World Health Organization and the National Institute of Health. To check your BMI, you'll enter your height then stand on the Wii Balance Board and let it read your weight.
Wii Fit Age: After you've checked your BMI, you'll do a basic balance test and find out your current Wii Fit Age. This basic balance test measures how well you can control your left and right balance. Based on the results, you'll be assigned a Wii Fit Age.
Categories:
Wii Fit features four main categories to choose from: Strength Training, Aerobics, Yoga and Balance Games. As you spend time exercising, you'll earn Fit Credits that unlock additional exercises and activities within these categories. Wii Fit also tracks the activities you do the most and puts them into the Favorites category.
Strength Training: Put your strength to the test with muscle-toning exercises like Single Leg Extension, Sideways Leg Lift, Arm and Leg Lift, Single-Arm Stand, Torso Twists, Rowing Squat, Single Leg Twist, Lunge, Push-Up and Side Plank, Jackknife, Plank and Tricep Extension. Challenges include Push-Up Challenge, Plank Challenge and Jackknife Challenge.
Aerobics: Get your heart pumping with fun, interactive Aerobic exercises like Hula Hoop®, BasicStep, Basic Run, Super Hula Hoop, Advanced Step, 2-P Run, Rhythm Boxing, Free Step and Free Run.
Yoga: Work on your balance and flexibility with Yoga poses and activities like Deep Breathing, Half-Moon, Dance, Cobra, Bridge, Spinal Twist, Shoulder Stand, Warrior, Tree, Sun Salutation, Standing Knee, Palm Tree, Chair, Triangle and Downward-Facing Dog.
Balance Games: Get into the action with fun, balanced-based games like Soccer Heading, Ski Slalom, Ski Jump, Table Tilt, Tightrope Walk, Balance Bubble, Penguin Slide, Snowboard Slalom and Lotus Focus.
Tracking Results:
Keep tabs on your daily progress with easy-to-understand graphs and charts. Using your personal profile, you can set goals, view a graph of your BMI results over time, see how many Fit Credits you've earned, check your Wii Fit Age and even enter exercise time you've done outside of Wii Fit. It's all about coming back and exercising a little every day, and the personal profile makes tracking your daily progress simple and easy.
You can quickly check your Wii Fit Age and BMI without even putting the game in the console by going directly to the Wii Fit Channel.
Up to eight family members can create their own profiles in Wii Fit. On the profile-selection screen, everyone in the family can see each other's recent BMI progress and Fit Credit total. This will allow families to have a friendly competition to exercise and get fit.