The Beatles: Rock Band
In the '60s, they took the music world by storm. Now they're about to do the same for the world of music video games. Get ready to live out the meteoric rise of a band of legendary musicians as you take on the role of John Lennon, Paul McCartney, George Harrison or Ringo Starr and experience the music of the Beatles in an entirely new way.
The Beatles: Rock Band immerses you fully in the music and artistry of the Beatles. Show off your skills on guitar, bass, drums or vocals as you jam your way through hits that span the length of the Beatles' impressive career, performing at venues ranging from the Cavern Club to the roof at Savile Row. Combine up to three microphones to perform Beatles-style three-part harmony with your friends on enduring hits like I Want to Hold Your Hand, Day Tripper, Back in the U.S.S.R. and Here Comes the Sun. From their early days just breaking onto the world scene to their final artistic triumphs, you'll be at the center of the action, experiencing all the excitement and musical power that went into the making of a truly legendary band, and even gaining insights into the Beatles' experience beyond the limelight.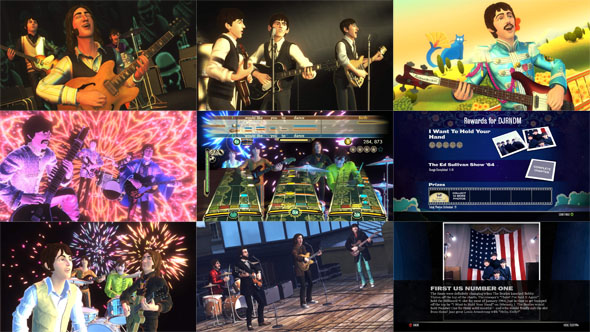 Features:
Experience the rise to fame of a legendary rock band in a game developed and co-created with the Beatles
Take on the role of Paul, John, George or Ringo as you show off your talents on bass, guitar, drums or vocals (instrument controllers not included)
Rock out to 45 songs from across the band's impressive catalogue, including I Saw Her Standing There, I Feel Fine, Taxman, I Am the Walrus, Octopus's Garden and Get Back
Live out the experience of performing at venues where the Beatles made history, including the Cavern Club and the roof at Savile Row
Emulate the Beatles' three-part harmonies with support for up to three microphones (not included)
Get inside the real-life band experience by listening to never-before-released conversations among the Beatles during Abbey Road recording sessions
Download additional tracks via The Beatles: Rock Band music store
Compatible with Rock Band, Guitar Hero and most other instrument controllers, as well as third-party microphones
For 1 to 6 players
Songs:
45 legendary songs, including "I Saw Her Standing There", "I Want to Hold Your Hand", "I Feel Fine", "Day Tripper", "Taxman", "I Am the Walrus", "Back in the U.S.S.R.", "Octopus's Garden", "Here Comes the Sun", and "Get Back". Additional songs will be available for download through The Beatles™: Rock Band™ music store.
Advanced Harmonix game technology brings The Beatles™ experience to life
Sing three-part vocal harmonies with support for up to three mics
Experience historic Beatles performance venues from the Cavern Club to the roof at Savile Row
Developed and co-created with The Beatles™, providing a true-to-life gaming experience
Hear never released conversations among the band during Abbey Road recording sessions
Song List

A Hard Day's Night
And You Bird Can Sing
Back in the U. S. S. R.
Birthday
Boys
Can't Buy Me Love
Come Together
Day Tripper
Dear Prudence
Dig a Pony
Do You Want to Know a Secret
Don't Let Me Down
Drive My Car
Eight Days a Week
Get Back
Getting Better
Good Morning Good Morning
Hello Goodbye
Helter Skelter
Here Comes the Sun
Hey Bulldog
I Am the Walrus

I Feel Fine
I Me Mine
I Saw Her Standing There
I Want to Hold Your Hand
I Want You (She's So Heavy)
I Wanna Be Your Man
If I Needed Someone
I'm Looking Through You
I've Got a Feeling
Lucy in the Sky with Diamonds
Octopus's Garden
Paperback Writer
Revolution
Sgt. Pepper's Lonely Hearts Club Band / With a Little Help from My Friends
Something
Taxman
Ticket to Ride
Twist and Shout
While My Guitar Gently Weeps
Within You Without You / Tomorrow Never Knows
Yellow Submarine