Guitar Hero 5
Living room legends will rock any way they want in Guitar Hero 5. The entire set list is at players' finger tips from the start, featuring genre-defining hits from some of the biggest rock artists and bands of all time, including The Rolling Stones, The White Stripes, Kings of Leon, Tom Petty, Bob Dylan and Vampire Weekend. Players take complete control as Guitar Hero 5 allows gamers to personalize and customize how they experience music by being able to play with any in-game instrument combination - multiple vocalists, guitarists, bassists and drummers, in any game mode.
With the game's all-new Party Play Mode, getting the band back together has never been easier. Players can now jump in or drop out of gameplay seamlessly, without interrupting their jam session. Elevating the Guitar Hero® series to new heights with unmatched social gameplay, an enhanced style, new in-game artists and more rock legends, Guitar Hero 5 features new surprises and challenges that will fire-up long-time fret board fanatics and create a new generation of addicts.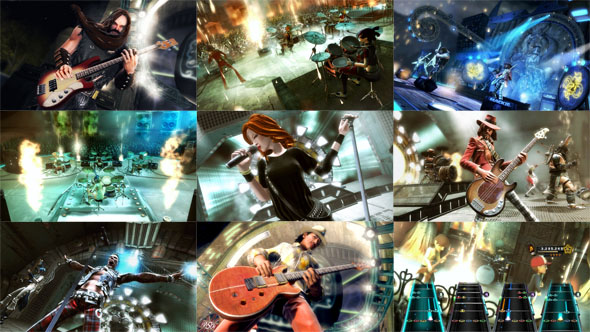 Assemble Your Band and Rock Any Way You Want
Guitar Hero 5 allows fans to play alone, as a full band or, for the first time, with any combination of multiple guitarists, bassists, drummers or vocalists, to customize their musical experience. Players now have the control to rock any way they want whether it is with two guitars and two drummers, four guitarists, or three guitarists and a vocalist, any combination is possible. This freedom is available in all modes of play: online, Party Play, Quickplay, RockFest and even career.
The Definitive Rock 'n' Roll Set List
Experience furious finger fretting, intense drumming, and lyrics that will challenge even the best vocal chops with songs from some of the hottest bands of today to all-time favorite classic anthems including; Tom Petty, Kings of Leon, The White Stripes, Santana, Johnny Cash, The Rolling Stones, Bob Dylan. Featuring 85 master tracks, the breadth of rock-centric styles ensures that every Guitar Hero fan will find their favorite tracks and discover new ones.
Join The Party!
It has never been easier to rip it up and rock out with friends than it is in Guitar Hero 5. The brand new Party Play Mode puts players straight into the action with the press of a button and allows them to jump in or drop out, or switch difficulty level at any time without interrupting the jam session.
Become the Best. Shred the Rest!
In Guitar Hero 5 players can test their skills against others with four-player local and up to eight-player online battles in the all-new competitive RockFest Mode. Within RockFest Mode, players can choose from various head-to-head gameplay types including:
Momentum: Songs get more difficult or easier on the fly depending on player performance
Perfectionist: Rewards players with the highest percentage at the end of each song section
Elimination: Players are eliminated throughout a song based on their performance in each segment and the last man standing wins!
Do-or-Die: Missing any three notes for a song section temporarily knocks players out of the game and keeps them from scoring
Streakers: Players are awarded points for each note streak in multiples of 10
Pro Face Off: Head-to-head battle where players all play the same song on the same difficulty with the same instrument.
Limitless Jams
Guitar Hero 5 delivers hours of endless entertainment, as fans will be able to play Guitar Hero® World Tour downloadable content in the game, experiencing all of the upgrades and new features in Guitar Hero 5.
The Band that Plays Together…
Bands can earn bonus multipliers by hitting new special note streams in unison, creating an even greater sense of excitement and accomplishment for players that can rock songs together.
Make and Share Music
Guitar Hero 5 features the innovative GHMusic Studio and GHTunes first introduced in Guitar Hero World Tour. Produce hits in the redesigned Music Studio with improved editing tools for easy use, new guitar samples and mix patterns and share them online with GHTunes to create what could be the next breakout hit.
Features:
Rock out to 85 incredible master tracks from artists like the White Stripes, Tom Petty, Bob Dylan, Johnny Cash and Santana
Create a band with any combination of multiple guitarists, bassists, drummers or vocalists in any of the available game modes
Jump straight into the action with the press of a button in Party Play mode, which allows you to drop in, drop out or change difficulty at any time without interrupting the jam session
Go head-to-head with friends in RockFest mode, featuring gameplay types like Momentum, Perfectionist, Elimination, Do-or-Die, Streakers and Pro Face Off
Expand your gameplay by playing Guitar Hero World Tour downloadable content in Guitar Hero 5
Hit special note streams in unison with your band members to earn bonus multipliers
Record and edit hit music in the GHMusic Studio, featuring improved editing tools, new guitar samples and mix patterns
Share your music online with GHTunes