DDR game welcome dance dance revolution DDR game players to share their experience with everyone. Please send the following information; including your name, residence of state, and your story to sales@ddrgame.com. (Any story with flout languages will be disregard)

Rachel's story about lost 40 pounds by playing DDR game --- 3/5/2007

Hi! My name is Rachel Bailey and I recieved Dance Dance Revolution as a Christmas present. I have a 8 month old son and couldn't figure out how to get the weight off. Since I have been playing the game, I have lost 40 pounds (IN 2 1/2 MONTHS). It's amazing and I just wanted to let you know. I have been telling everyone what I have been doing and more and more of my family and friends have been playing now. Just wanted to let you know. I have attached a before and after picture:)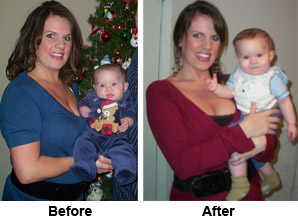 Bill's story about playing DDR game and lose weight --- 8/23/2004


Here is what I can tell you about my story of lose weight. I am 29 years old and work as design engineer for computer software firm. I enjoy eating, singing in karaoke bar, and sitting at home playing video games. I realize my weight has rapidly been up (225LB). I was only weighted 150LB when I was in college. My friend used to call me Slimbo now they call Dumbo. How sad is that!!! I always try to tell myself to do some exercise but I just couldn't do it. I hate to get up early or go to the gym after work. I became very "obese" and unhealthy. I was so sad and felt anxiously worry.

One weekend my cousin asked me to his daughter's 16th birthday party. When I was there chilling out my relatives. I saw a whole bunch of kids and young ladies crowded around the big screen TV. They are all laughing and moving their bodies and looks like they are having fun. I was so curious and immediately dropped my conversation with my older cousin and headed to the crow. That was so sock there are two kids playing video game on the metal platforms and jumping up and down. I started to find out more about this game with the skinny girl next to me. She told me this game is call DDR Dance Dance Revolution game with the super arcade metal dance pads. She described these pads are just like the one they play in the Arcade. She also explained how the game goes and moves. Since I am a hard core gamer (I play Diablo and counter strike days and nights), I am very interested in this game. With my fat body, I was embarrassed to ask to be on the spot.

This little girl told me they bought this DDR game and the metal dance pads on line @ www.ddrgame.com, so the first thing I came home and search on this product and purchase one of the DDR arcade metal dance pad. In about 5 days (so quick) I received them. I was so excited and I started to play the dance dance revolution game for at least 1-3 hours a day. I am having so much fun. After about a month, I felt like I lose some pound because my pants and shirt is not tie anymore. I put myself on a scale and noticed that I've dropped 13LB in about a month of playing dance dance revolution game. Now, I realized all the sweat from playing DDR dance dance revolution is just like doing exercise. It was so unbelievable that I can enjoy my gaming and lose weight at the same time.

As I was playing dance dance revolution for over 8 months and I am down to about 165LB. My friends and colleagues are wondering what have happened to me. Everyone notice I change a lot. Since I started to play DDR game, my ability at work have changed. The DDR game not just strengthens me up physically but also mentally. It makes my mind focus and energies me into a higher level. Not like before, I have to take nap after lunch everyday. Even my boss had just nominated me to be the employee of the month. I am so glad and appreciated the invention of the DDR Dance Dance Revolution game.

I am a very happy man and have a beautiful girlfriend (never had dated after gaining weight) who is also playing DDR game with me. She loves the work out mode of this game. It keeps the calorie count for her and she loose 10LB in a month. We are regularly play dance dance revolution everyday. A lot of my friends got into this game because of my changes. But, one thing you have to remember don't play this game right after meal and drink plenty of water or juice, because DDR game could get very physical.

This is the story I like to share with everyone. I hope it can serve a purpose that you can have fun while losing weight at the same time. I have never gained any weight back. I and my girlfriend both maintain a good health and light weight and continuing play my favor DDR dance dance revolution game. My Slimbo nickname is back and forever…